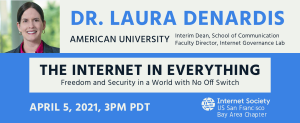 I'm moderating a tech policy webinar for the SF Bay Area Internet Society chapter on 5 April 2021 with leading Internet governance academic Dr. Laura DeNardis.  Details below – all are welcome to attend and the webinar will be viewable on our chapter's YouTube channel.
---
On
Monday, April 5, 2021 at 3PM PDT,
the
San Francisco Bay Area Internet Society (ISOC) chapter
will host a tech policy webinar on the topic of
"The Internet in Everything: Freedom and Security in a World with No Off Switch"
.  Moderated by the chapter's 
Policy Chair, 

Robin

 Gross
, webinar attendees will hear a talk from
globally recognized Internet governance scholar Dr. Laura DeNardis
on how the
"Internet of things"
threatens human rights and security and how hidden technical governance arrangements will become the constitution of our future.  Bridging cybersecurity and Internet governance concerns, Dr. DeNardis will also discuss how digital networks directly affect and manipulate our physical world — even our own bodies, and how control of this infrastructure has become a proxy for political power.  Attendees will also have the opportunity to ask Dr. DeNardis questions on issues related to connecting cyber devices to all aspects of our lives including the impact on privacy, security, democracy, and discrimination.
Dr. DeNardis is the Interim Dean in the School of Communication at American University in Washington, DC, where she also serves as a professor and the Faculty Director of the Internet Governance Lab.  Dr. DeNardis has written seven books including "The Internet in Everything: Freedom and Security in a World with No Off Switch", which was listed in the Financial Times Best Technology Books of 2020.  With a background in information engineering and a doctorate in Science and Technology Studies, Dr. DeNardis studies the social and political implications of Internet technical architecture and governance.  She is an affiliated fellow of the Yale Law School Information Society Project and served as its Executive Director from 2008-2011.  She previously served as an adjunct Senior Research Scholar in the faculty of international and public affairs at Columbia University and is a frequent keynote speaker at the world's most prestigious universities and institutions.
Registration for attending the SF Bay ISOC chapter's webinar is free and open to anyone interested in hearing from Dr. DeNardis and discussing freedom and security in a world where everything is connected and controllable.  We hope you will join in the discussion and attend our latest tech policy webinar!