The Future of Section 230 and its Impact on Innovation, Free Speech, and Democracy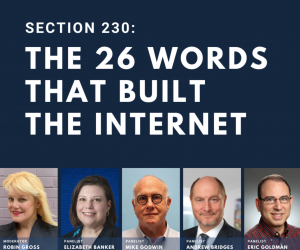 Please join the SF Bay Area Chapter of the Internet Society (ISOC) on Monday 8 March 2021 for a tech policy webinar on the topic of Section 230 of the Communications Decency Act (CDA), the 26 words that created the Internet 25 years ago this month.  47 USC Section 230 is the law that in many cases protects Internet users, social media, and other Internet companies from legal liability for the speech of third-parties that they repeat or amply in their posts or emails or on their websites and online platforms. The law has fueled the growth of the Internet and generated billions of dollars of value from an online economy, even creating entirely new categories of business models, often involving user generated content.  Section 230 has given US tech companies a significant legal advantage over their competition in foreign countries that do not provide such legal immunities for the online speech of third-parties.
While Silicon Valley was built on the protections afforded by Section 230, there exist many calls to reform or repeal the law, which has also played a role in the spread of online disinformation and other dangerous content that can cause harm offline.  Several legislative proposals have recently been made in Congress to amend Section 230, including a proposal from several Democratic Senators that would curtail the immunity for paid content and wrongful-death actions and aims to enforce antitrust and civil rights laws online.  Meanwhile, some Republicans call for repealing Section 230 altogether, because of grievances over content moderation on tech companies' platforms.  Unsurprisingly, civil liberties groups urge caution on Section 230 reform due to the law's promotion of technological innovation and freedom of expression and the potential for reform to open a pandora's box of unintended consequences.